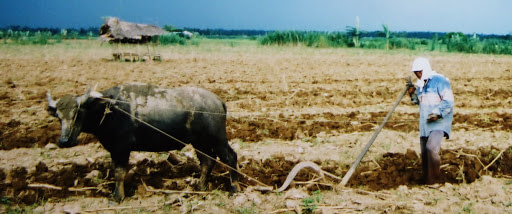 KAISAHAN has been committed in facilitating agrarian reform implementation and sustainable rural development since 1990. The organization, through its various programs, empowers marginalized groups in rural areas to promote a sustainable and humane society.
On-going Projects
---
Empowering Communities to Secure and Protect Land Rights in the Most Critical Areas of Negros Occidental

Development Goal:
Empowered rural communities with resource tenure security and sustained capacity to protect their land rights
Expected Outcome:
(1) Land distribution in the most critical rural communities fast-tracked; (2) Dynamic people's organizations are actively engaged in protecting their land rights and in accessing support services; and (3) Policies on land rights, rural development, and land use which favor small farmer cultivators are advanced.
Area of Operation:
National
Local
> Negros Occidental
Partner Organization:
MISEREOR
---
Continuing the Land Rights Efforts and Supporting the Agrarian Reform Beneficiaries' Development in the Haiyan hit Province of Leyte

Development Goal:
Strong and sustainable community of farmers in Ormoc and Kananga, Leyte
Expected Outcome:
(1) Agrarian reform beneficiaries cultivating and in actual possession of awarded lands; (2) installed ARBs with 10% increase in farm income; and (3) empowered and influential farmer federation and organizations.
Area of Operation:
National
Local
> Ormoc City, Leyte
> Kananga, Leyte
Partner Organization:
MISEREOR
---
Advancing Land Rights in 2016

Development Goal:
Creation of a policy environment more favourable to small women and men farmer cultivators, in relation with the 2016 Presidential Elections; and implementation of land rights policies especially in Yolanda hit areas and areas for ARB installation
Expected Outcome:
(1) Sustained public awareness on legislative measures, such as the Notice of Coverage (NOC) Completion Bill and National Land Use Act (NLUA), through a series of public campaigning initiatives; (2) a National Land Rights Summit, consolidating like-minded groups and personalities supportive of land rights issues, is conducted to propose a land rights and rural development agenda in the upcoming Presidential elections; (3) published a policy research paper on Agrarian Reform (AR) implementation issues and gaps related to concerned government agencies (such as the Departments of Agrarian Reform, Agriculture, Environment and Natural Resources, Interior and Local Government, Land Registration Authority, Land Bank of the Philippines, among others; and (4) a stronger local land rights network in Eastern Samar is built to ensure land tenure security and protect in terms of policy and implementation.
Area of Operation:
National
Partner Organizations:
OXFAM, AR Now!
---
Joint Action for Land Rights

Development Goal:
Empowerment of vulnerable and socially excluded groups to claim their rights, including protecting the rights of human rights defenders (HRDs)
Expected Outcome:
(1) Enhanced capacities of HRDs to monitor and document land rights and related human rights abuses, conduct relevant advocacy activities and support communities affected by land grabbing; (2) Supported initiatives of HRDs in defending land rights and managing related human rights abuses; (3) Implemented/promoted concrete policy changes and measures towards enhanced land rights claim making and protection of HRDs working on land rights through broad-based advocacy; and (4) Addressed urgent needs of HRDs through legal, psycho-social, medical support, sanctuary, resettlement or other risk decreasing measures.
Area of Operation:
National
Local
> Eastern Visayas
> Western Visayas
Partner Organizations:
European Union, People in Need (PIN), Asian NGO Coalition (ANGOC), BALAOD Mindanaw
---
Hustisya Natin: Empowered Civil Society Oversight of Judicial and Quasi-Judicial Bodies Towards Enhanced Integrity of the Justice System

Development Goal:
Enhanced integrity of the justice system, through increased accountability and transparency, and improved performance of judicial and quasi-judicial bodies
Expected Outcome:
(1) Established national network of empowered CSOs exercising regular oversight of judicial and quasi-judicial bodies; (2) Institutionalized CSO monitoring system of judicial/quasi-judicial accountability, transparency and performance; and (3) Contributed to formulation and implementation of, and advocacy for, justice sector reforms.
Area of Operation:
National
Local
> Eastern Visayas
> Western Visayas
Partner Organization:
Alternative Law Groups (ALG)
Engagements
---
The People's Campaign for Agrarian Reform Network (AR Now!)
> Board of Directors Chair
Alternative Law Groups (ALG)
> Council Member
Campaign for Land Use Policy Now! (CLUP Now!)
> National Secretariat